4
stars
Publication provided by KI Lynn in exchange for an honest review



The highly anticipated conclusion of the Nathan and Lila saga is finally here. It was long, lustful journey and I am thrilled that one of my favorite storybook couples overcame all obstacles and achieved their well-deserved bliss. As expected…there were MANY bumps in the road.



"I love Lila, and I never wanted to be without her. With her, I was reborn." ~ Nathan


As a couple, Nate and Lila overcame some serious hurdles. But major challenges lie ahead for them in

Reciprocity.

Lila's stepbrother's trial, facing her bastard of a father and reliving her traumatic past sent Lila's world into a tailspin.

On top of all that, the lingering threat of the Marconi's still haunts Nate. Ugly fears consume them both as past demons jeopardize their future together. Danger is lurking every turn. And lets not forget the 'Boob Squad' and the havoc they reap. Nathan's brass balls grew bigger as he finally puts them in their place. Yep, verbal bitch slapping causes them to back off once and for all. (As a side note, that situation annoyed me a bit. It was inconceivable how openly antagonizing those women were toward Lila, considering it was going on in a law office).

Reciprocity

neatly ties up all the loose ends left dangling at the end of

Infraction

.





I have a great love for Nathan. When first introduced, I was drawn to his character's ferocity. He was rugged. He was a brutal and highly erotic lover. His possessiveness and domination over Lila was arousing. The darkness that harbored deep in his soul lured and fascinated me.
In

Reciprocity

, I noticed a change in Nathan's multifaceted character. He was still intense, but I felt was toned down since he was less enraged. I fully understand the transition, for he finally came to terms with the fact that Lila is a permanent fixture in his life. And thus, he became more genteel. The push and pull that existed in their early relationship is gone and he has better control over his emotions. I missed that 'edge' to his persona. I missed that barbarity that caused him so much fury, he felt the need to shred the walls around him. Nevertheless, Nate still manages to amaze me with the filthy pillow talk and he still is an extremely passionate lover.
"

You planned for this, didn't you? You wanted me to attack you like a fucking animal." He pulled back, then slammed his cock back inside, making the breath leave my lungs and my back

arch. "Throw you down like a slut and pound you until you can't walk. Bruise your skin with my hands and teeth." Another hard thrust of his hips, accentuated almost every other word. "That's what you want, isn't it?" "Yes." "Then take it. Take me." He sped up, driving his cock into me at an unrelenting pace.
Although I miss that coarseness, I liked the softer side of Nate. (But, it took me a while to get used to it). His love and devotion to Lila is remarkable. There is no limit to the sacrifices he is willing to make for her…




"I'll protect you with my dying breath. You'll always be safe from now on".
"Be mine forever," he whispered. "Yes." There was no other answer. "Love me forever." His voice cracked as he spoke. Tears swelled in my eyes. "Always."





I liked Lila's character development. She morphed from a meek woman lacking confidence to a chick who is more self-assured. She blossomed under Nathan's care.

Gone are the days where she cowers to her opponents. Lila stands up for herself and is ready to face her fears head on and supports Nathan in his time of need. Lila and Nathan compliment each other, providing strength when the world around them is crumbling.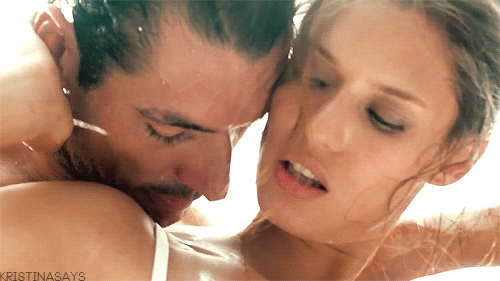 All in all, I enjoyed the Breach Trilogy and I am melancholy the series has come to an end. I will miss them. My only gripe is that I felt the story ended too abruptly. I was like… 'what'? 'It's over'? Yeah, the prince and the princess ride into the sunset and lived happily ever after... But for all the drama these two had endured over three installments, I wanted to see more into their future. A chance to see more of the "happily" they deserved after surviving such strife.

I guess reading stories with epilogues spoils me by satisfying the need to absorb more of the tale. Alas, it has ended so - farewell Nathan and Lila…I will always adore you.
TRIPLES with EMMA