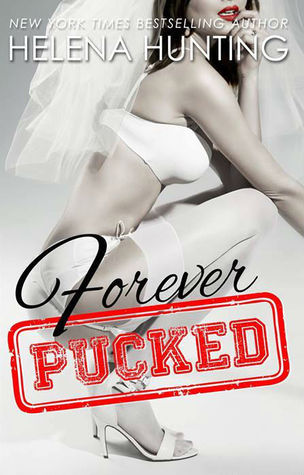 I love this series and so thrilled Helena Hunting gave her fans another riotously hilarious, full-length novel dedicated to Alex and Violet's journey to

forever

.
"

It's amazing how a poorly thought-out one-night stand can turn into a forever kind of love. Because that's exactly what Alex is: my

forever

"



I was excited mainly because I missed my Alex Waters ~ the super sweet, incredibly sexy hockey player and my favorite hero within the Pucked series. I definitely did not get enough of this gentle giant and his monster junk package in the last two installments, and I was due for a fix. Also, I missed seeing his sensitive side, something that was missing especially when facing off against Miller in Pucked Up. Needless to say in Forever Pucked, Alex's character was exceedingly romantic and back to his sentimental, love smitten self ~ the perfect soul mate for the off the wall loon that is Violet Hall.




Violet is head over heels in love with Alex and knows deep down their love is everlasting. But when it comes to planning a wedding with the ever-present meddlesome moms duo, even thinking about it riddles Vi with fear. But when a tragic event rocks their world, it was time for Vi to work around her anxieties and for Alex to take charge. Drama and angst aside, it was definitely entertaining to see her torment – from the moms sex-talk over sharing, to the sheer lunacy of her buddies and an unforgettable adult-store shopping escapade, poor Vi had her hands full of craziness to deal with.




The hilarity, the constant over-sharing, the out of control raunchiness topped off by all of Vi's hijinks, made this a fun read for me. The laughter was endless. But what set this romance apart from the others was the nail biting moments of drama laced within, which caused Violet to reveal a deeper and more serious side of her character. No doubt Hunting pens playfully amusing, light-hearted romantic comedies. Nevertheless, her writing style does have a flair for intensity. This author did a wonderful job of balancing both the elements of humor and solemnity, giving this tale more depth and dynamics to its main characters.




As always, I enjoyed this couple's shenanigans. I loved seeing how this kooky cast of friends and family interact with one another, guaranteeing me a bawdy yet fun, sexy read. And…Wow, I adored that epilogue. If you are looking for amusing and dirty romances, I recommend jumping into this series from its beginning. I will miss this crew and hope there's more to come with stories involving Lance Romero and Darren Westinghouse.
ARC received in exchange for an honest review.