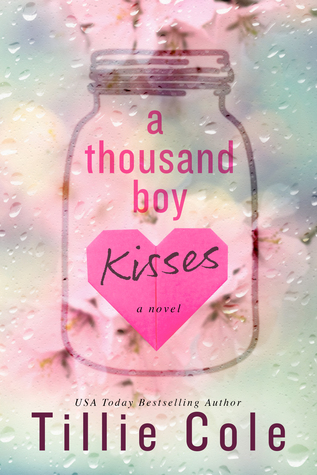 A thousand moonbeam hearts and sunshine smiles
Seriously kicking myself for passing up on the opportunity to ARC review "A Thousands Boy Kisses".

The synopsis appealed to me, but at the time, I wasn't in the mood for a YA romance and decided to quietly read it at my leisure sometime down the road.




What a foolishly dumb mistake.




This book blew up my Facebook and Good Reads news feed, so I decided to jump.




So freaking happy I did. Tillie Cole penned an epic romance that surpassed anything I could have ever imagined. The YA rating and lack of heat did not take anything away from the experience. In fact, it has become one of my top rated, all time favorite reads. And I highly recommend it for those who are looking for that special, extremely emotional, soul touching, timeless love story.




This destroyed me in every way possible – I was a slobbering puffy eyed, snotty nosed mess by the end. I will tell you, it takes a heck of a lot to bring me to tears while reading. In fact, there are only a minuscule number of authors who can break me. Congrats Tillie, you made the list. By the way, thank you for holding my soul in the palm of your hand, crushing it into smithereens, and making my heart almost burst.

You overwhelmed me and I bawled my eyes out, feeling as if the heartrending events unfolding within the story line were actually shattering my life.

Honestly, there were times I could barely handle all the somberness that consumed these characters. IT HURT and it brought me to a very painful place. However, I do not regret a single tear I've shed, not one heart twisting moment. For me, this was one of the most amazing love stories…ever.




Early on, we see the blossoming of this couples' friendship. Rune, an introverted little boy, lost in a new country and missing his home in Norway. He becomes fast friends with a gleefully sweet girl named Poppy. A strong bond quickly forms between the two, as they comfort one another over the years through thick and thin. They are inseparable.




One day, the course of their lives changed, as Poppy's beloved grandmother passed away. On her deathbed, she consoled little Poppy by gifting an empty Mason jar filled with a thousand pink paper hearts. Poppy's next adventure is to fill each cutout with the memory of a special boy kiss that caused her heart to burst with excitement. A challenge to gather the memories of a thousand kisses throughout her lifetime. Rune decides he is the only boy Poppy's lips will forever belong to.




And so begins a beautiful story of destined love between two children whose hearts are forever linked. Rune matured into a broody, angry young man, forced by his father to move back to Norway. During their separation, Poppy mysteriously severed their connection without any explanation. Two years have passed, and at the age of 17, a bitter Rune returns to the US looking for answers. After a rocky reunion, and Poppy finally unleashing her devastating secret, they rediscover not only their friendship, but also their true love.



I fell head over heals in love with Rune, the perfect hero who was forever loyal to Poppy in heart, body, mind, soul and lips. From beginning to end, he captured my affections with all his sweet, yet moody ways. On the outside, he was a rough and tough bad boy. But buried beneath his jaded exterior, lived Poppymin's tenderhearted 'forever always'.




Poppy was sincere and adorable. My heart bled when seeing all that she had endured. Strong-willed, spirited and determined, she amazed me. She was a true heroine in every sense of the word.




There are no adequate words to properly describe what I experienced while fully immersed within Rune and Poppy's world. The entire tale wreaked havoc on my emotions and the epilogue...sigh…you'll need to experience it for yourself. Tillie Cole in my opinion has outdone herself in creating this couples' journey, by brilliantly stringing together words describing a transcending, infinite love that deeply touched the heart of me.
TRIPLES with EMMA