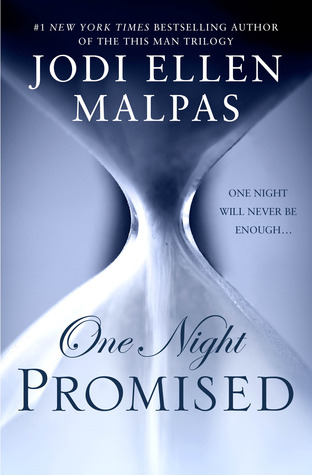 Arc received in exchange for an honest review
M is an enigma. "One Night Promised" treated me to a mere glimpse of his multifaceted personality. Jodi Ellen Malpas is a masterful writer. A temptress who presented a tale that gently and beautifully lured me into the minds and lives of her characters. Like a slow seductive dance, Malpas held my hand and gradually led me into a world where my emotions were twirled and my mind was twisted from a plot filled with questions, intrigue and angst. This installment laid the foundation for what I believe will be an epic romance..
M is a character in his own right and should not be judged, paralleled or compared to any other. Also, be patient. M and Livy's story is not fast paced.

Written from Livy's point of view, it is extremely detailed. I entered this series with an open mind and embraced this new cast of characters. If you are a fan of JEM, or new to her work, trust this author to lead you on a compelling journey.
Livy is a sassy and stubborn barista/waitress with a painful past. M is a sexy, insanely wealthy "gentleman". On a chance encounter they meet as Livy serves M a terrible cup of coffee. (His reaction was hysterical). There's an immediate attraction between the two that is undeniable. Both fight against the allure…but eventually, they succumb to their desire. Oh, how I savored the build up and the chase. M was delicious as he fought his attraction...
"I need to force myself to stay away from you"... "Because you seem like a sweet girl who should get more from a man than the best fuck of you life." M.
And so it begins. The unassuming girl falls for the enigmatic man. Both consumed by lust, a proposition is made and accepted. One night together – 24 (non consecutive) hours of passion, tenderness and off the charts sizzling sex.
A promise to worship Livy in every way. M's incredible as he sensually feeds Livy's body with insurmountable pleasures.
Livy is a likeable female lead. There were times she grated on my nerves as she fought M's temptations and towards the very end she managed to MAJORLY piss me off. But overall, she was endearing. I fell in love with her family. Livy's grandmother, Nan and George, a delightfully comical pair, had me in stiches with all their crazy antics. Sidekicks Gregory and Sylvie were funny, lovable characters as well.
I have to admit, it took me some time to warm up to M. As the story developed, I began to somewhat understand him. Not really pleased with some of his actions, but I got him. What I most enjoyed were his sexy, charismatic and quirky ways. He's a true romantic and smoking hot in the bedroom. But mostly, M was a total head-trip. There must be justifiable reasons for all his quirks, fears, secrets and obsessive compulsions - and have a gut feeling the revelations will overwhelm me. I am looking forward to digging deeper into his persona.
As always, JEM's readers need to pay close attention to the story's details. As a writer, she is incredibly clever and extremely sneaky in dropping unsuspecting hints within the storyline. Certainly was a crafty way of keeping my attention and drawing me further into the world she created. Expect the unexpected in "One Night Promised", for perception is not necessarily reality. A good start to what promises to be a great series. Be warned - as I suspected, the ending is one hell of a cliffhanger. Nail-bitting AGNST. And thus begins my excruciatingly painful wait for "One Night Denied".
TRIPLES with EMMA