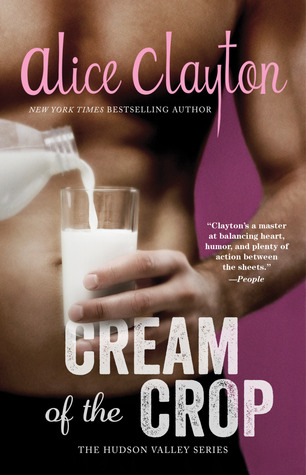 That's why I fell for Oscar the Grouch. I can't resist a hero who praises a great big ass.




Cream of the Crop

is the second installment in the Hudson Valley Series and can be read as a stand-alone novel. But then, you'd miss all the crazy hijinks in Clayton's Nuts, where the main characters, Oscar and Natalie, first appeared.



This was a sweet and steamy 'opposites attract' romantic comedy that had me chuckling and swooning. A buoyantly funny story filled with a dynamic cast of characters, sizzling passion and a touch of drama. Everything I love whenever reading one of Clayton's tales.

And Oscar…Sigh…He was delectable.




Natalie Grayson ~ buxom, sassy, stylish and overly confident businesswoman is a Manhattan gal through and through, and a girl after my own heart. I liked her snarky and bold demeanor, despite her size, which she worked to her advantage. She was no wallflower and a little stubborn at times, but seeing her past experiences, I understood where her character was coming from. She certainly was one heck of a self-assured quick-witted heroine. However, that entire self-confident attitude went straight out the window as her undying love of cheese forced Natalie to cross paths with the hot and hunky diary farmer named Oscar Mendoza. Seeing him at the local farmers market each week became an obsession, and this boisterously ballsy city girl became all frenzied as she hysterically lost her cool whenever they met. So began the slow burn cat and mouse chase as this couple comically yet feverishly collided.
Oh man, did I adore Oscar. He brought broodiness to a whole different level. Tall, dark, tatted and surrounded by a hint of mystery, this diary farmer was sweet as he was sexy. He was an enigma at first, being the furthest thing from chatty, as his end of their conversations had been barely more than

monosyllabic

. It took some time to unravel and get to the heart of him, but in the end, Oscar was loveable. There were times I felt he was too laid back when drama and obstacles befell this couple. They had a fair share of troubles to overcome. I prefer the type of hero who is dominant and assertive when it comes to claiming the heart of his woman, and Oscar was a little too relaxed at times. Nevertheless, he managed to win me over in the end.




I enjoyed Natalie and Oscar's story ~ an all around entertainingly fun and witty read filled with loads of hotness. Loved revisiting the characters from Nuts, namely sexy Leo, as well as loony Roxie, Chad and the rest of the Bailey Falls gang. I recommend this lighthearted read and series to Alice Clayton fans and lovers of romantic comedies.
ARC received from NetGalley in exchange for an honest review