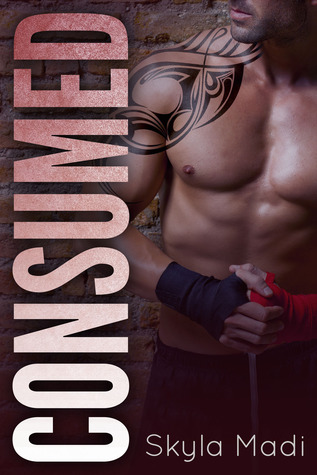 ARC Provided by author in return for an honest review.
What do you get when you take a good girl who has suffered from a broken heart and a sexy, muscled bound womanizer that's a tattooed MMA fighter? A 4 star hot romance.
Olivia James is unlucky in love. She's involved in a six-year relationship with Blade - a cheating, good for nothing loser bastard. Olivia becomes fed up, decides to dump his cheating ass and declares she is done with love, men and relationships.
Cue in Seth Marc.
He's a fighter, a man whore with sexy tats, lickable muscles and a self-proclaimed "stubborn, selfish, spoiled and a little too proud" type of guy. Uhm…bells and whistles should be going off with this dude, Olivia. But, as luck would have it, Seth trains at her dad's gym. There is no escape from this bad boy and no chance of her fighting off a strong sexual attraction to him.
Seth can't seem to tear himself away from Olivia (aka O). He is an enigma – on one hand, confessing he is a commitment phobe, a lothario, who is satisfied with an endless string of one night stands – offering women nothing more than a "wham, bam, thank you ma'am" encounter. On the other, he's magnetically drawn to O…. needing to touch her, kiss her, spend any available moment in her presence. But just as things heat up, and O is determined to give into a one-night stand, Seth pushes her away. WHY?? Because Olivia is a good girl pretending to be bad and Seth refuses to corrupt her.
"Look, you can't keep holding a grudge against me because I didn't sleep with you and before your girl brain over-thinks what I'm saying—you're not ugly, you're not fat and it's not because you threw yourself at me….If I let you have me I'm almost certain you wouldn't be able to handle me….I act like I don't give a fuck—and most of the time I don't, but there's a small portion of me that cares too much and for some reason...you fall into that portion. Don't ask me why because I have no idea and it has been driving me fucking insane….I can't have good...because I don't deserve good."
Seth, a Casanova with morals, it's just what O does not need. He cares for Olivia; she brings light into his life, even though he believes he is not worthy of her affections. Oh Seth, you hunk of man, you wormed your way into my heart and now hold the top spot of favorite storybook fighter.
Olivia and Seth manage to work through all their relationship fears, tear down their walls, and fall in love. Their love carries them through the most difficult of times and grows stronger. Their love for each other is all consuming. Seth has truly reformed his ways and is absolutely committed his heart to O…
She affects me and I love it. I love her. When someone affects you so much that you can't sleep at night without them, you can't think straight whenever they're in the room and you'd risk it all for them, you go for it. You take no risks.
I enjoyed reading CONSUMED. The main characters were lovable and Seth is a swoon worthy bad boy turned one woman lovin' Romeo. It was so easy to fall in love with him. I would have liked to learn more about his dark past and an explanation as to why he was adamant about not drinking. Perhaps that will be explored further in the sequel. Until then, I will be patiently waiting to see what happens next in COMSUMED #2.