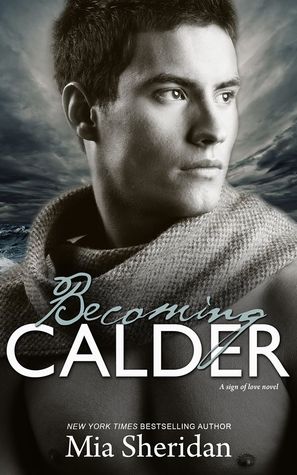 Received from author in exchange for an honest review
Whenever I read one of Mia Sheridan's tales I feel as if my heart is held captive within her hands, at her mercy, trapped within the world she has created. My emotions are sent into turmoil, ripping me open as my soul is destroyed and shattered beyond repair. Suddenly, as if by magic, her words become gentle caresses as I am pieced back together again. This author has a way of gripping my emotions and her characters are forever burned into my mind's eye. Calder and Eden's story sent me on a whirlwind journey. So much so, that I needed to savior the experience over and over again, before reeling in my thoughts to write a review. That is how powerful this series affected me.
The story begins slowly as we are introduced to life in the puritanical, cult-like community, Acadia. These people live within a utopian society, in modern times, without the modern conveniences. It is here we see a young water bearer named Calder, a member of the worker/farming class and Eden, a little girl brought into the community who holds the promise of leading followers to eternal salvation. She is isolated from all others and is raised to serve Hector, the cult's leader, to whom she will marry upon reaching 18. Despite Eden's dictated obligations and Calder's station in life, love has greater plans for their destiny that transcends this religion's prophesies.
"No wonder she's the chosen one to lead us through darkness

, I thought. She shines."
Eden is brought into the commune, feeling lost and frightened, she glances into the eyes of a young boy and an unbreakable bond is instantaneously formed. That moment is forever seared into their hearts. A beautiful friendship begins which later leads to a clandestine relationship.

Their souls are forever tethered as a forbidden love blossoms from a courtship consisting of stolen moments, glances, smiles, affectionate love letters, secret rendezvous, morning glories and butterscotch candies.

Their sweet romantic beginnings swelled my heart with joy.
He was perfect. And I loved him. I loved him desperately.
It isn't everyday I am treated to a character as

lovable

and innocent as Calder. He was like a breath of fresh air between his gentle soul and heart of gold.

I was totally smitten by the poetic way he spoke to Eden - his colorful words and heartfelt love letters had me swooning. The way he loves his family, especially his sister Maya, had me falling head over heals in love. I admired his courage and strength in times of trouble and the comforting way he soothes Eden. Calder is truly an unforgettable character that will forever remain in my heart.
"Where do you find your strength, Morning Glory?" … "From you.
"
It is my heart that wants you to be my destiny
Oh, did my heart and sympathies go out to Eden.

She was so lost and lonely in an unfamiliar world. For most of this read, I was teary-eyed seeing her struggle with her solitude and ache for rare moments of bliss with Calder.

She was such and an easy character to connect with.
There are some pretty loveable secondary characters that happen to steal the show as well. Maya, Calder's special needs sister, captured my heart and brought me to tears. She was angelic and endearing. Be warned, she will worm her way into your heart quickly. Another was Xander, Calder's best friend who made me chuckle with his antics and brought some moments of humor to this emotional story.

And then there are villains… Acadia is home to some pretty despicable, nefarious characters. The most infamous being Hector.

He gave me bad vibes from the get go and before long, I was seething with biter hatred towards this bastard. Hector not only caused Calder and Eden misery, he infuriated me to the point I felt my blood boil.

What I treasured most about Calder and Eden's relationship was their innocence. Both young and undeniably in love, their passionate moments were amazingly beautiful as well as fiery. Their undying love for one another overwhelmed and totally consumed me. Felt myself drowning in the descriptive way their love and passion was exquisitely written. I was drawn into their sorrows and lamented their losses. Once I fell into this strange world conjured by Sheridan, I did not want to leave. The journey was not easy on my emotions and the ending made my head explode. There were times my heart was literally pounding violently and others that caused tears of sorrow and joy.

Becoming Calder was a fantastic epic read and I cannot wait to continue the experience and jump into the companion novel – Finding Eden.