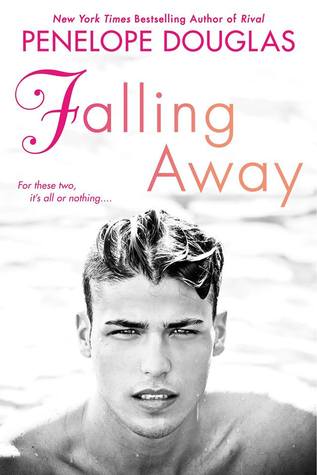 4 Stars
Arc received from author in exchange for an honest review



I was a little hesitant going into "Falling Away" because I have to admit, I was not a fan of KC when first introduced in "Bully". What enticed me to dive in was my curiosity and fascination with Jaxon's character. There was just something about the way KC handled the relationship with Jared and betraying her best friend Tate that left an acrid taste in my mouth. Regardless, I jumped into this read trying to have an open mind and soon discovered I was absolutely wrong. I shouldn't have been surprise in Penelope Douglas' ability to turn my feelings towards KC around.
The more familiar I became with KC's life, her pain, her history and sorrow, the more I opened up my heart. The real KC is a complex character that was truly misunderstood. Lost and filled with deep seeded pain, her life started to slowly fall apart. But once shedding the mask she wore to protect herself, KC shined. I championed her struggle in rebuilding herself and adored the new loving, gentle and tenderhearted KC/Juliette. A totally different side came through and I found her to be my favorite heroine in this series.
Jax is the quintessential bad boy. He's hot, sexy, extremely domineering and likes to have total control when it comes to sex. But he's also…mean-spirited, more so than I found his brother Jared and friend Madoc to be. For most of the read, he down right pissed me off with how callous he was towards KC. But his charisma coupled with his insatiable sexual appetite drew me to his character.
The deeper I was pulled into the story, the more I understood Jax. He was broken and needed to find himself as well. In all honesty, it was hard getting around his character at times, but once I crawled inside his mind and saw his pain, the more I hoped for his healing. It took some time, but I come to adore Jax because deep down he truly loves KC, and has for years.
As far as steam, this read was smoking hot – more so than the previous installments by far. Jax was full on crazy when it came to passion. It was easy to forget how young these characters were. Douglas has the knack of masking their youthfulness by introducing a definite level of maturity within her characters, especially during the hot monkey sex scenes. Holy cow, these two sizzle.
Jax and KC's romance was by no means an easy, lighthearted read. It was emotionally driven. This series is known for it's troublesome heroes/heroines and this couple certainly heads the pack. Stirring an array of feelings within me - from frustration, to anger, to compassion – Jax and KC's broken souls pulled on my heartstrings. In the end, Penelope Douglas penned another well-written intense story with just the right mix of angst, lust, love and nail biting moments. Lots of push and pull type of sexual tension that explodes once these two get together, and it was fantastic. To top all this goodness off, a glimpse into the next installment where we revisit Jared and Tate's relationship. I personally am looking forward to more of this couple and cannot wait to jump into their continuing saga.




Falling Away: The Fall Away Series